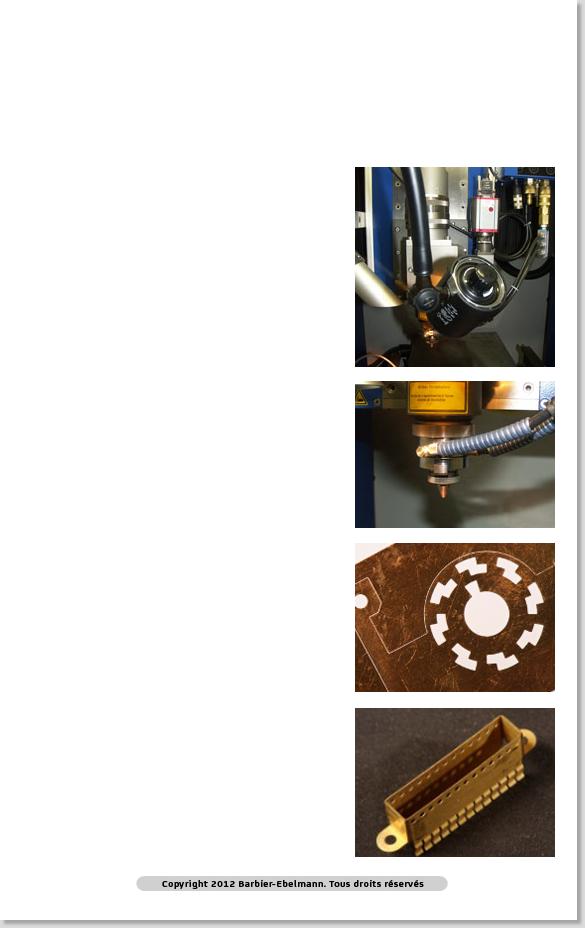 A rare machine

In order to develop the company through innovative technologies, BARBIER-EBELMANN has acquired a micro-cutting laser. A rare machine for cutting fine plate with exemplary precision.
Source: TRUMPF YAG 110 Watts
Displacement unit: ELC of Swiss manufacture

Technical potential

Beam diameter:

87 um

Optical fibre system between the source and the work area
Volume of work:

400 x 400 x 250 mm

Numerical control:

CNC SIEMENS 840D

equipped with a camera used for positioning and inspection during cutting

Multi-industrial domain

• Connectors
• Medical
• Clock and watch making / Jewellery
• Automotive
• Chemicals
• Spinning and weaving

Laser Plus

Applied technical knowledge, the company's multidisciplinary expertise is based on a complete positioning associating complementary technologies, such as (cutting plus forming, surface treatment), bringing together all its skills for optimisation of all finished products.